You couldn't make it up, the Coronavirus pandemic has changed and continues to change everything. Commercial buildings are being closed the world over, as working from home becomes the new norm. In this blog post, we're addressing some concerns you may have had about the impact of unmanned/empty properties, particularly around fire safety.
As facilities managers are tasked with closing or providing skeleton staff in buildings (with the sole purpose of providing lots of people with a place to work), shutting them down involves a lot more than turning off a few switches. There are so many things to think about and very little time to think of them. We hope these tips will help add a level of reassurance around fire safety in your buildings (plus a couple of bonus ideas).
Short on time? Download the infographic instead
Why is Fire Safety Still Important?
Empty buildings pose huge risks for businesses; vandalism, arson, squatters, electrical fires, flooding/major leaks and the list goes on. Managers are responsible for all these potential issues, along with keeping their buildings ready to be up and running again in a heartbeat.
Let's focus on fire damage. It's hard for a business to bounce back from a major fire and coupled with the expected economical downturn, things are going to become a lot more difficult for businesses to survive. Fire protection and detection are often overlooked in empty buildings, as it's primarily seen as a 'personal' safety system. That being true, often the more severe impact of fire devastation is business continuity; the effects of a fire can ripple for months, even years, always resulting in drops in revenue. But more troubling is that businesses will often shut their doors for good.
A mixture of technology and good old fashioned know-how can help with a lot of these potential issues, so we have some tips on how to keep an eye on your empty buildings during these tough few months ahead.
6 Ideas Which Could Save the Day
1. Make sure you have fire detection in place
Has your building got a fire alarm, if it does, is it fit for purpose? Fire alarms which cover commercial buildings in the UK have three main categories under BS5839; P, M & L.
P = Property protection
These systems are designed to detect fires in a building, they are not to protect people. 'P' systems are unlikely to have a method to manually raise an alarm if detected by a human. These systems are most often found in unmanned or vacant properties.
L = Life protection
'L' systems are designed to protect both property and people. Five sub-categories can be found under L (1-5), each with added levels of protection for building occupants.
M= Manual system
These systems are most commonly found in SMEs. They are designed for life protection in non-hazardous properties. They will not detect fires (no smoke or heat detectors) but rely on a human to raise an alarm via a Manual Call Point (MCP). As you can imagine, an 'M' system will not protect an unoccupied property as it requires someone to manually raise an alarm.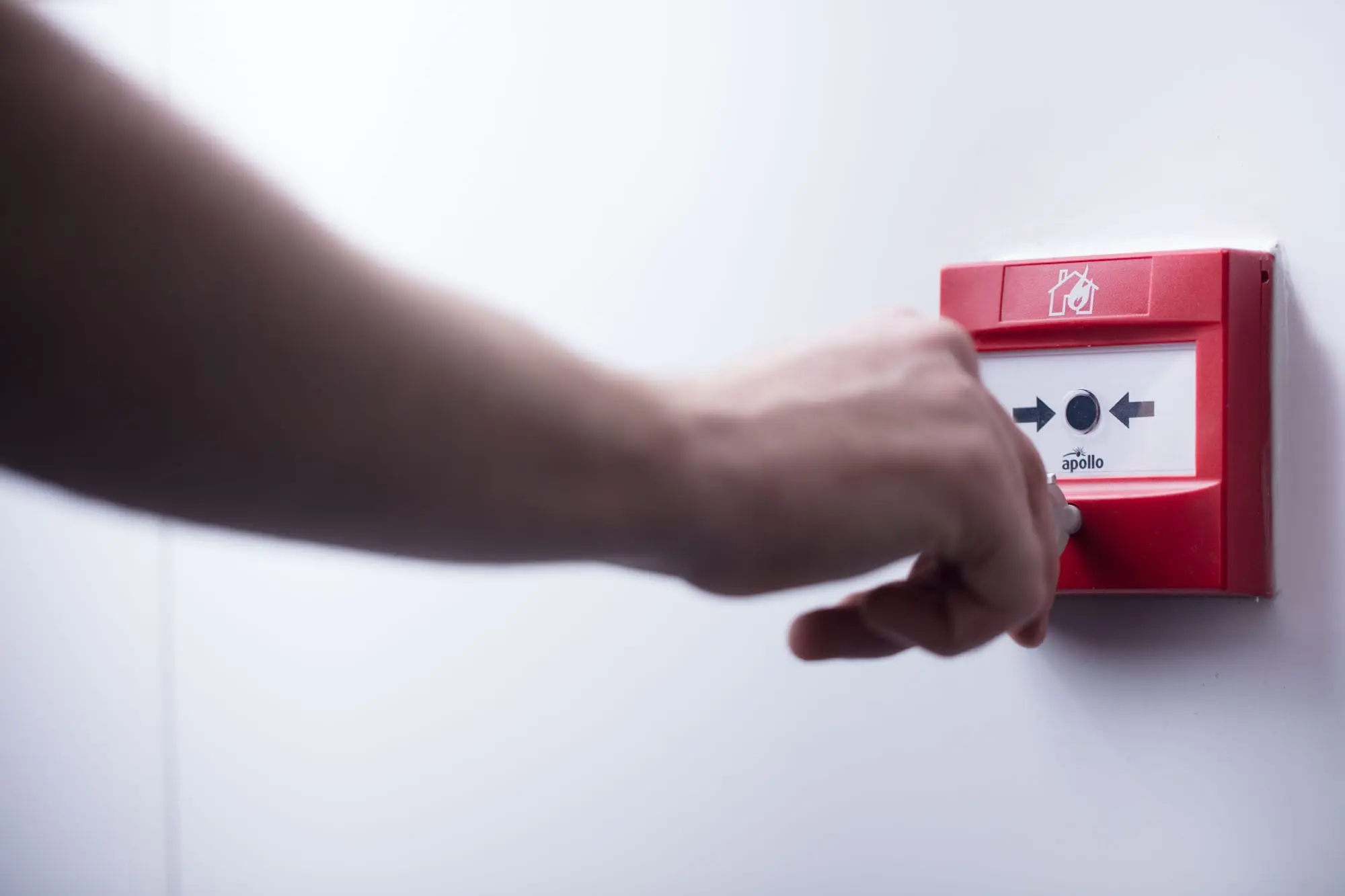 If you don't have a fire alarm installed, a non-intrusive, wireless system can be installed in a relatively large building in less than a week. Systems are available for those with even modest budgets. If you do have a fire alarm, but it's not going to protect your property while vacant, it's usually quite simple to adapt what's already in place, by adding either wired or wireless detection.
2. Make sure your fire alarms are connected
If you're one of the lucky ones and have a fire alarm in place, temporary or not, do you know if it can communicate with the outside world? or even better can be accessed remotely?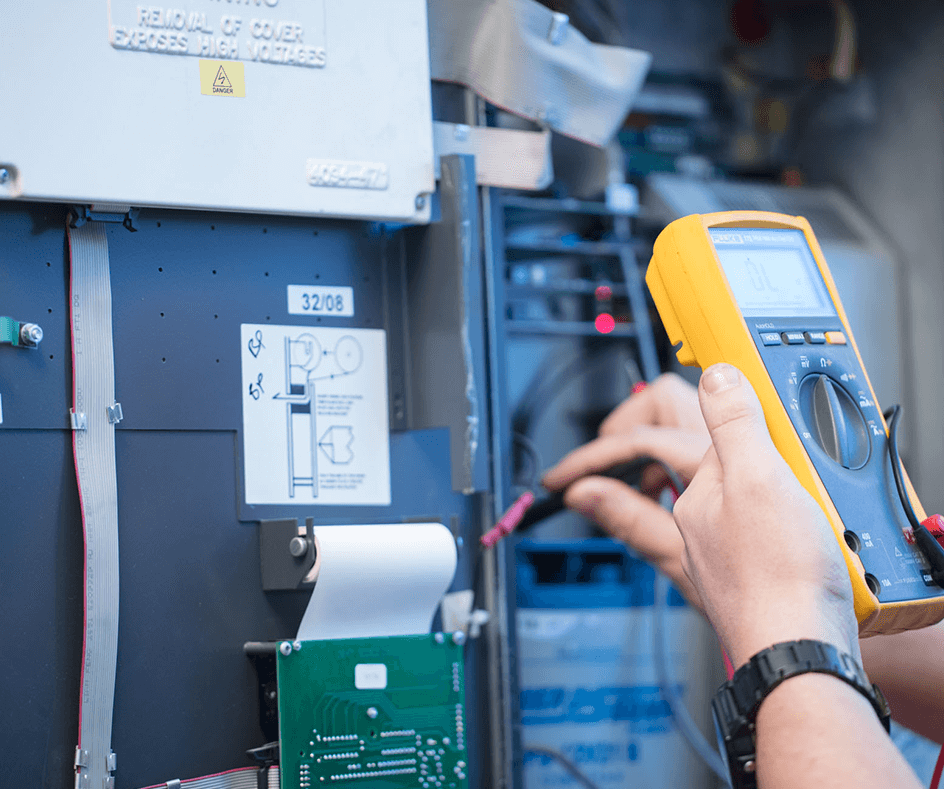 While fire alarms are generally closed systems (for lots of very good reasons), some trusted technology systems can connect to the communications port of a fire alarm and 'talk' to it. With these systems, it's possible to mimic your fire alarm(s) from the comfort of your bedroom home office. Being able to review faults, pre-alarms, device isolations and fires remotely provides facilities managers with a makeshift control room.
If you're sitting at home streaming your control room on a second screen in your home office and a fire event is raised, what next? Are you able to deal with the fire personally, is anyone else looking at the same screen as you, or do you need to connect to an Alarm Receiving Centre (ARC) to handle any emergency services call-outs? There are a variety of different systems which will automatically place a call to an ARC in the event of a fire. If you have an empty building, with no onsite security and no 24-hour manned control room (home office or real office) you might want to think about getting in touch with an ARC, they'll have called the emergency services about your fire before you've had time to shoo your cat from the keyboard.
3. Maintain your fire alarm
This one should go without saying, but your fire alarms need to be tested and maintained, even when your buildings are empty. One might argue that this is a good time to have service engineers dragging ladders around buildings with nobody to bump into (two metres distancing aside).
During the maintenance visit, your engineers should be made fully aware that the building(s) will be empty for prolonged periods and to check the cause and effect within the systems are appropriate for this. Fire alarms often have a working and non-working hours setting, along with many being programmed for double knock warnings, which is fully reliant on people being in the property to raise and alarm (you may need to consult a fire risk consultant for more guidance).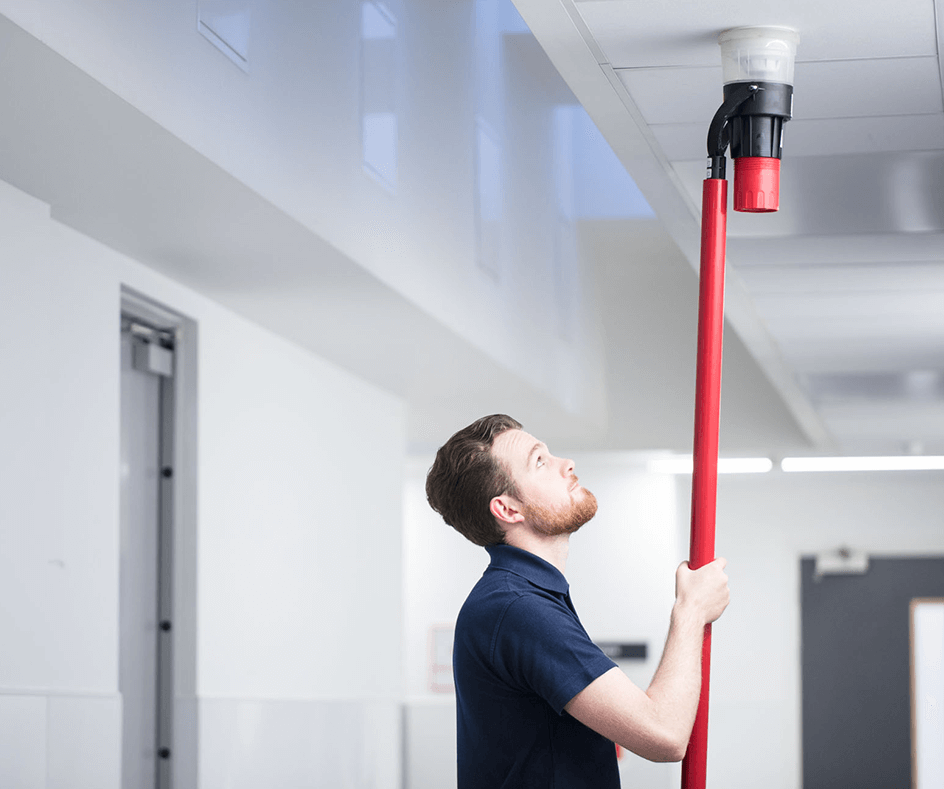 We're not going to say it's common, but fire detection devices are sometimes left isolated for longer than they should; this could be for various reasons, more often than not they're problem devices that can't be accessed for repair… repair them while you've got the chance, and make sure they're activated!
Are issues with access, asbestos, noise restrictions etc. causing essential works to be postponed? Empty buildings offer a great opportunity for these works to be carried out safely and quickly.
If you're concerned that you shouldn't be carrying out works during the COVID-19 outbreak, the FIA has confirmed that fire and security personnel are key workers and should be allowed to continue to carry out essential life safety services.
4. Give your contractors no-contact access in emergencies
Security guards and concierges are standing down, so what happens when your contractors need access to your property following a call-out? Is there a way you can provide them access remotely, or is it possible to post them a key in preparation?
During this period of isolation and social distancing, if you're able to give your contractors access to your properties without a face to face, that's got to be a good thing.
[Tip: kill two birds with one stone. If you're asking a contractor to go into one of your empty buildings and you're concerned about potential leaks, or a particular window being left open, ask them to check when they're on-site.]
5. Close ALL fire doors
The bad news, a fire has ignited in your property. The good news, your fire detection system has raised an alarm and the emergency services are on the way. But wait, there's more bad news, all the fire doors were propped open during the mass exodus and now the fire has free rein of the property until the reds (fire engines/trucks) arrive.
While making light of this, it's a very common issue to see doors propped open; a dumbbell, a screwdriver, a textbook, or simply a swollen frame. Some are held open using mag holders which are connected to the fire alarm and should release and close in the event of a fire. However, following a recent test in an education facility, we found that over 90% of this type of fire door did NOT close under fire conditions.
With all this in mind, you should make an effort to close all fire doors, even those which should close in the event of a fire. You could ask your fire alarm engineer to set all doors to remain closed from the fire alarm panel as part of their maintenance visit.
[If you're not familiar with how a fire door works, here's a good guide from IFSEC Global.]
6. Sensors
We're now in a world where sensors are low cost, wireless and easy to install. If you have any concerns about areas in your buildings, you can bet there's a sensor to help.
Think about your top five issues; e.g. water temperature monitoring of calorifiers, overheating pumps, leak detection, temperature measurements in a server room and protection of important artwork.
In each of these scenarios, there are wireless sensors which can be installed in under 30-minutes and will automatically start reporting back to an online data platform for review in your growing home office control room.
In conclusion
Your mounting issues and lack of staff to keep an eye on things lends itself to remote monitoring and automation. Systems can be connected to and viewed remotely (even your BMS), with the swipe of a screwdriver and the click of a mouse.
If you have some problem areas in a building or particular assets you need to keep an eye on, think about adding some sensors for peace of mind.
To summarise, with a quick checklist:
Are your alarm systems fit for purpose and have they been recently maintained?
In the event of a call-out, are your contractors able to access your property while maintaining recommended social distancing?
Have you made sure all fire doors are closed to ensure the designed fire compartments in your building will offer a level of protection in the event of a fire?
Do you have essential works that you've been putting off which could be carried out when your properties are empty?
Having got to the bottom of this blog, we hope you've found it helpful on your quest to keep your buildings safe. Some of the things we highlighted above are niche and not necessarily well known throughout the industry.
If you've spoken with your fire alarm contractors and they're not familiar with any of the technology or terminology we've listed, please don't hesitate to contact us for more advice. We have a trusted team of fire technology and sensor experts who can help you get through this difficult period.